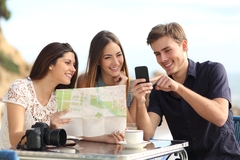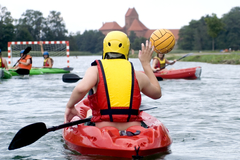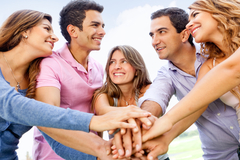 INCENTIVE PROGRAMS
We can provide bunch of classic incentive activities, such as treasure hunting, off-road rally, Segway tour, beer hop, cooking workshop, cocktail making, golfing, go-carting etc. However, here are some more unique and exciting experiences to enjoy in Latvia, around the Baltic States and in Scandinavia
Secret Code Game (Riga, Latvia)
This is an interactive urban game that's fun to play at the end of a workshop or conference, to get people from the hotel to a restaurant or alternative venue. It is specially made for people who enjoy adventure, competition and fun! Main secret in this game is special QR code (quick response code) which is used to code different kind of messages, texts and tasks.
Dinner in the Sky (Riga, Latvia)
Dinner in the Sky is a unique event for those who wishes to transform an ordinary meal or meeting into a magical moment with everlasting memories. It is hosted on a special platform at a height of 50 meters, surrounded by panorama of Riga. Exquisite meals are prepared by world class chefs.
Pan Cars Rally (Riga, Latvia)
Great opportunity to blast around the streets in tiny Fiat cars, painted by the best Latvian graffiti artists. Each team gets one car to enter the orienteering competition, with a winning prize at the end. You will not only enjoy the sights of Riga, while undertaking some fun and interesting challenges, but also get lots of attention and admiration from the people you'll drive by – those cars are quite extraordinary after all.
Hollywood of Latvia (Tukums, Latvia)
A visit to the movie town "Cinevilla" in scenic Kurzeme region is like stepping into a time machine – an opportunity to see how Riga looked about hundred years ago. You can explore the process of shooting a movie. Besides that, using special equipment, the filming manager provides an opportunity for visitors to feel like actors themselves. You can even rent an army uniform, a costume of a war nurse or a city lady at the costume storage.
Bobsleigh Track (Sigulda, Latvia)
The Bobsleigh Track in Sigulda is a training venue for Latvian Olympic team, and it hosts international and national scale competitions on a regular basis. You have a unique opportunity to enjoy the speed in a vehicle called soft-bob or vuchko, going down the 1420m long track – the same where Olympic medalists train and compete.
Flying in the air at Aerodium (Sigulda, Latvia)
Have you always wanted to fly just like a bird? Well, it is possible in Latvia! Aerodium is the first vertical air tunnel in the Eastern-Europe. With air flowing 200 km/h, floating in the wind tunnel is similar like a free fall when skydiving.
Canoe Polo (Vilnius or Trakai, Lithuania)
It's an exciting water sports activity (mix of water-polo, handball and basketball) with lots of fun where two teams are playing against each other. Participants are playing in high quality "sit on top" kayaks that are easy to control and steady in the water. This is a game for everyone, no special kind of kayaking skills are needed.
An undercover Spy Tour (Tallinn, Estonia)
Join the "I Spy Tallinn" tour to learn about fascinating tales of espionage, as well as attempting to become a master spy yourself. You will hear intriguing tales from across the centuries. During the tour the tour leader will instruct you on your secret mission, where you will be pitted against other members of the group. Is the person standing next to you the double agent… or are you?
Roof top hiking (Stockholm, Sweden)
Exciting opportunity to see Stockholm from the rooftops on a guided tour, well secured with safety equipment. Challenge yourself among the many varied roofs and steeples in Stockholm and enjoy the beautiful skyline of Sweden´s capital. It's a unique combination of climbing and sightseeing – for people not afraid of heights.