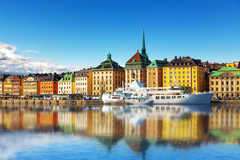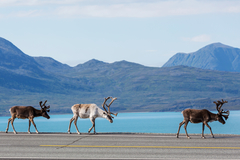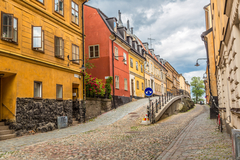 WHY VISIT SWEDEN
Frozen wastelands, cosy cottages, virgin forest, rocky islands, reindeer herders and Viking lore – Sweden has all that plus impeccable style and "to-die-for" dining. Here are 15 reasons why you should visit it.
Relax in Stockholm, the "Venice of the North", situated on 14 islands! Nowhere is this better illustrated than in the Old Town (Gamla Stan). Cobblestone streets, crooked but beautifully preserved buildings, the Royal Palace, gothic churches and excellent cafés, bars, restaurants and Swedish design-ware shops.

Visit the world's first open-air museum Skansen with a collection of historic buildings. It is wonderful, with wolves, elks and reindeers, great rides for the kids and restaurants and cafés for their parents.

Enjoy a boat trip to Drottningholm – the Royal Palace in the Old Town is large but lifeless. It's still the monarch's official residence but King Carl XVI Gustav and Queen Silvia prefer to live in the (relatively) less imposing 18th-century palace of Drottningholm, a UNESCO World Heritage Site.

The island of Gotland is where half of Stockholm goes during the summer. In the medieval city of Visby, a UNESCO World Heritage Site, ancient cobblestoned streets and fortified city walls meet modern restaurants, cafés and shops.

Check out the music festival season! Way Out West, or WOW, is the most popular music festival with about 30,000 visitors – more won't fit into the Gothenburg park of Slottsskogen where it takes place in August. WOW is also Europe's biggest combined music and film festival.

Explore the archipelago! Sweden has tens of thousands of lakes and islands – and the archipelagos of Gothenburg and Stockholm are just a short ride from the city centres. There's always the possibility of going boating or kayaking, something that Swedes really make use of.

Pick blueberries in Dalarna. Dalarna is perhaps the quintessential Swedish province, with its red wooden cottages, deep green forests and Dala horses. When you need a break from all of this loud Swedishness, head into the woods for some quiet blueberry picking.

Go hiking by Höga Kusten – UNESCO World Heritage Site. Its hilly scenery with high islands, steep shores, smooth cliffs and deep inlets is the highest land uplift in the world. Formed during the Ice Age, it is literally rising from the sea.

Enjoy ski experience in Sweden! There are about 200 ski resorts in Sweden, from resorts around the popular ski village of Åre in central Sweden to ski facilities in the provinces of Dalarna, Jämtland, Härjedalen and Swedish Lapland, there are hundreds of places where you can hit the slopes.

See the northern lights! For those willing to brave the cold on clear crisp winter nights, you may be rewarded with one of nature's most spectacular displays – the Aurora Borealis (also known as the northern lights). The best location for viewing the northern lights is the Abisko National Park north of Kiruna.

Go snowmobiling across frozen rivers! Get off the well-worn road and try an invigorating ride across the frozen Kalix River, Lule River or Torneträsk in Swedish Lapland. Snowmobiles are quite easy to navigate and don't require the level of endurance that skiing or snowshoeing demand, making them ideal for families who want to explore the wilderness and tundra of Lapland.

Try Stockholm City-centre swimming! One of the perks of living in a city with warm summers and stringent environmental laws is that you can go for a swim right in the middle of town.