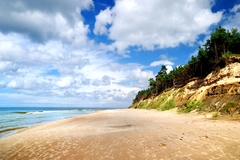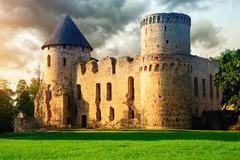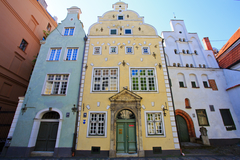 WHY VISIT LATVIA
Latvia is a beautiful country on the Coast of the Baltic Sea. It attracts foreign tourists mostly because of the unspoiled nature and green landscapes, white-sand beaches stretching 500 km long, and breath-taking golden-purple sunsets.
The liveliest and most bustling part of Latvia is its capital Riga. Modern buildings and developed infrastructure is mixed with more than 800 years old history.
But the rural regions has plenty to offer, as well. Outside Riga region there are four geographical and historical regions: Vidzeme, Kurzeme, Zemgale, and Latgale. Each of them has its specific characteristics, such as traditions, language dialect, cuisines, etc., that makes it somehow unique.
Kurzeme region
Kurzeme has always been associated with the sound of the Baltic Sea, steep banks and wild seaside. The seaside used to be inhabited by the Livonians and fishing villages still have an air of history. The biggest towns in Kurzeme are Liepaja, "the city of wind" and birthplace of many famous musicians, family-friendly Ventspils, Sabile with its Wine Hill, Kuldiga with Ventas Rumba – the magical waterfall and the widest one in Europe (250 meters).
For history:

Karaosta Prison (largest historical military territory in the Baltic States), Jaunmoku and Jaunpils Castles, Northern Fort in Liepaja, and the world's eighth largest radio telescope in Irbene (during the Soviet Era it was used to spy on Western enemies).

For nature:

Waterfall Ventas Rumba, The Kolka Cape (northernmost point of Latvia and summer hotspot for swimmers and surfers, and as a viewing spot, watching migratory birds in spring), Liepaja and Ventspils "Blue Flag" certified beaches, largest lakes in Latvia (Usma, Engure and Liepaja), National Parks (Slitere, Kemeri and Engure Lake), Jurkalne Seashore Bluffs and Latvian Blue Cows.

For culture:

Livonian festivals, rock festival Summer Sound in Liepaja, and Ventspils fashion festival.

For activities:

Boat trips on rivers and lakes, specially-created cycling routes, paragliding, windsurfing and kiteboarding, riding the electric bicycle, music clubs and Northern Fort labyrinths by torchlight in Liepaja.
Vidzeme region
Vidzeme is the hilliest part of Latvia and it prides itself in the greatest number of ancient Latvian hillforts, medieval castles, and posh manors. In October crowds of people visit the Ancient Valley of the River Gauja for views of autumn leaves. Romance is there all year round at the changing Vidzeme seaside landscape – Randu Meadows and high dunes. Each town in the region has its own special mood. Valmiera is a student town with lovely walking paths on the banks of the River Gauja. Cesis charm with its medieval ruins and cobbled streets. Sigulda is known as a great destination for active recreation. Resort town Jurmala, 25km from Riga, is made up of a series of beaches stretched along a peninsula, and offers thermal waters, pine forests, white quartz sand beaches and a cosy little village.
For history:

Livonian Order castle in Cesis, Dikli Castle, Turaida Museum Reserve, a unique archaeological monument Araisi Lake, only public narrow gauge railway in Latvia, Saulkrasti Bicycle Museum.

For nature:

Seaside resort Jurmala, Gaizins (the highest peak in Latvia), Gauja National Park (more than 500 cultural and historical monuments), the largest cave Gutmanala with inscriptions, dated back to the 17th century, picturesque coasts of the Salaca.

For culture:

Town festivals, Fishermen's Festivals, Valmiera Drama Theater.

For activities:

Hiking trails, cycling routes and boating down rivers in Gauja National Park, ski slopes during winter, attraction parks, wind tunnel Aerodium and bungee jumping from cable car in Sigulda, SPA hotels in Jurmala.
Latgale region
Latgale is known as the land of blue lakes as the majority of Latvia's lakes are concentrated there (more than 400!). Historically believers of different religions have lived there side by side, therefore, the region prides itself in impressive sacred buildings including the pilgrim destination – Aglona. The Aglona Basilica is absolutely stunning and a unique work of art that has been standing graciously since 1780, attracting thousands of pilgrims every year in August. The region still practices ancient traditions, but at the same time, it is keeping up with the modern times.
For history:

Aglona Basilica, Daugavpils Fortress, ancient mounds, churches and manors.

For nature:

The Blue lakes, Daugavas loki nature park, the hill Sauleskalns with excellent views, and friendly ecotourism and eco food.

For culture:

World class Mark Rothko Art Centre, an interactive glass museum, concert hall.

For activities:

Black pottery workshops, relaxation in the "black" sauna.
Zemgale region
The largest part of Zemgale is flat, which makes it different from the other regions that have both uplands and deep river valleys. Zemgale boasts one of the most fertile grain fields in Northern Europe, something that has ensured the prosperity of the region for many successive centuries. Its vast fields are home to some of the most breath-taking castles and palaces in Latvia. The most famous one, Rundale Palace, looks like it's straight out of a fairy-tale. The palace was once the summer residence for Ernst Johann Biron, Duke of Courland. Today, the baroque palace welcomes guests to tour around its rooms, check out the exhibitions at its museum and explore its lush gardens, designed by Italian architect Rastrelli.
For history:

Rundale Castle with its gardens, pearl of the baroque style Jelgava Castle, Bauska Castle of the Livonian Order, Classicist style Mezotne Castle, Koknese Castle, and ruins of Dobele Castle.

For nature:

Tervete Nature Park (great for kids), Kemeri National Park, and magical Pokaini Forest.

For culture:

Country farms, Festival of Ancient Music in Bauska; an international ice sculpture exhibition – Ice Festival in Jelgava, Harvesting festivity fair in Vecauce.

For activities: 19 cycling routes, covering four different categories for various tastes.