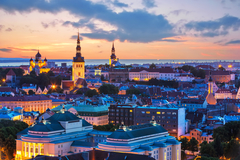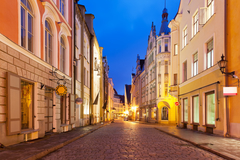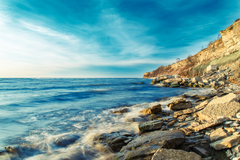 WHY VISIT ESTONIA
Estonia is often seen as the world's leading innovator against the backdrop of untouched nature and rich medieval heritage. The story goes deeper, and it might just be that Estonia with its diverse background and Nordic temperament ends up being your next holiday destination. Here are 15 reasons why you should visit it.
Tallinn, the capital of Estonia, has many excellent viewpoints there are a lot of creative ways to get sweeping panoramas of the Old Town and city centre, charming views of medieval streets and rooftops, or spectacular glimpses of the Tallinn shoreline. Enjoy the views when taking an uphill walk or beach side stroll, while climbing up on one of many towers, exploring a museum or zipping coffee in a restaurant.

The unique Tallinn Old Town dates back as far as around the 10th century and it was first brought to the world's attention in 1154 by an Arab cartographer. It was once one of the best protected towns of the medieval world. These days, visitors can partake in the lively everyday buzz of the Old Town, a place that is still very much enjoyed by many locals. In addition to great walks and amazing views, here you can enjoy tasty restaurants, hip night venues and cool design shops, all quite affordable in price.

KGB Museum in Tallinn is located in Hotel Viru. It was headquarters of the KGB, the secret Soviet military service, in the seventies. This is the place to go if you want to experience the feeling of the Soviet times.

Tartu has been a university town and a city for young people for a long time. The cradle of Estonia's famous song festival tradition and educational system lies in Tartu.

Centre AHHAA in Tartu is the perfect place to get to know science better and encourage young people studying through the joy of discovery. In addition to trying out numerous hands-on exhibits, visitors of AHHAA can also take part in workshops, enjoy planetarium and science theatre shows.

Parnu is a beautiful historic seaside town. The warm sea and fine sandy beach has been the trademark of Parnu for over 170 years. It is proud to be the Summer Capital of Estonia.

The small town of Otepaa really comes alive in the winter months – it is the Baltics' best-known winter sports centre and the country-skiing and ski-jumping capital. The town attracts skiers, snowboarders, tubers and sledgers from all over the country, and is also the training ground for the Estonian Olympic team.

Over 18% of Estonia's land and 30% of the Sea territory is designated a protected areas which includes five national parks, nature reserves, landscape reserves and smaller areas. Estonian national parks offer a diverse range of flora and fauna as well as manor house or nature farm accommodation, also camping possibilities. If you are lucky you might see moose, bear and eagles.

Estonia has more than 1500 islands that offer an enormous amount of charm and ancient history. Most popular of them are Saaremaa, Hiiumaa, Kihnu, Ruhnu and Vormsi.

Estonia is ideal for bird-watching. The best time for this activity is during migration, when millions of birds fill the skies. Thanks to the number of Ramsar wetlands of international importance and the diverse landscapes, birds are abundant in Estonia – over 380 species can be seen and over 200 species also nest here.

Song festivals – Estonians love to sing, and they like to do it in a crowd. Because of this Estonia regularly hosts the largest choir festivals in the world, a tradition which dates back all the way to the 19th century and forms a large part of the Estonian identity. Two types of festivals Tallinn Song Festival Grounds and Dance celebration.

Estonian gastronomy is really taking off and "a personal touch" is very much its leading slogan. Whether you are a dedicated carnivore, veggie or enjoy all sorts of dishes, salty or sweet, Estonian towns and villages have a range of restaurants and gastropubs for an affordable dinner in unique surroundings that are often inspired by architecture and untouched nature.