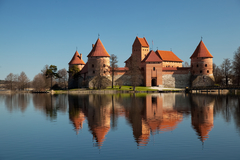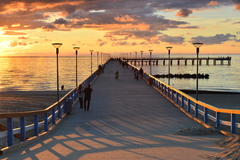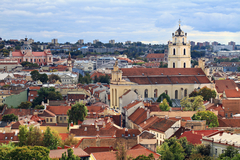 WHY VISIT LITHUANIA
Lithuania – a country situated at the geographical centre of Europe, washed by the Baltic Sea, covered with dense, refreshing forests and meandering rivers and lakes. Lithuania is home of five national parks and the unusual nature formation where you get a feeling that you are in a desert by the sea. Despite being a relatively small country,
Lithuania has much to offer to its visitor, ranging from many types of leisure activities and entertainment to a wide list of about thousand sightseeing objects. We recommend you to see and enjoy at least some of the amazing places and activities in Lithuania, here are 15 of them.
Vilnius, the capital city of Lithuania, is famous for numerous Orthodox and Catholic churches, cobbled alleys and majestic hilltop views. It boasts the abundance of cosy cafes, restaurants, souvenir vendors and fancy boutiques. Narrow curvy streets promise new discoveries round every corner.

The Old Town of Vilnius is one of the largest and most exquisite old towns in Central and Eastern Europe and the most northernmost capital city which took over the architectural styles of old Southern and Western Europe.

Hiking on Lithuanian lakes and rivers, swimming, canoeing and rafting – all entertainment is hard to enumerate! Lithuania has 5 national and 30 regional parks offering assorted entertainment.

Curonian Spit is the place where the beach looks like a desert. Over five thousand years ago the waves and winds of the Baltic Sea drifted dunes and eventually shaped the Curonian Spit – a strip of land which separates the Curonian Lagoon from the Baltic Sea. The unique Neringa resort located on the Curonian.

Spit and stretches for 50 kilometres, boasting the highest number of sunny days among all Lithuanian locations.

The geographical centre of Europe is situated in Lithuania, 26km westwards from capital Vilnius. It's a fact that's discovered by researchers of the French National Geographical Institute and even registered in the Guinness Book of World Records.

Trakai is East Europe's largest castle located on an island, surrounded by lake waters from all sides. Trakai was the capital city in the 16th century. You can reach the castle after passing two bridges across the Galvė Lake.

The remarkable and unique Hill of Crosses in Šiauliai, northcentral Lithuania, attracts pilgrims, tourists and even newlyweds. The Hill is literally full of thousands of crosses, in various shapes and sizes.

Lithuanians can be proud of the distinctive music and dance traditions. They have original music instruments which you won't find anywhere else in the world: daudyte (embouchure aerophone), long shepherd's horn audible dozens of kilometres away and wooden cow bells attached to a frame and beaten with sticks.

Lithuanian song festivals have been running since early twentieth century. Now they've settled at once in four years involving more than 30,000 Lithuanians from round the globe: singers, dancers and musicians. Also, all year round Lithuanian cities and towns host many traditional festivals.

Unique SPA resorts, especially Birštonas and Druskininkai, are known for springing mineral water and mineral curative mud with curative features – as good as at Europe's most famous wellness resorts.

Klaipeda Sea Museum & Aquarium hosts daily shows of trained dolphins and California sea-lions, as well as expositions of Lithuanian freshwater fish, fish of tropical seas and the Baltic Sea. Another interesting activity of the museum is dolphin therapy for the disabled children.

The Palanga Amber Museum's exposition takes up 15 rooms. About 4,500 exhibit pieces are found here. Visitors are acquainted with the formation, processing, practical application, and morphological variations of amber. The museum has a wealth of amber pieces with trapped insects or plants, a collection of unique pieces of amber, and examples of fossilized tree resin brought from all over the world.

Kernave – a distinctive site that traces back to the unique and extinct cultural tradition and civilisation. It boasts the Baltic States' only complex of five fort-hills, once used for defence. It is also Lithuania's ancient capital.

Vilnius TV Tower is one of the tallest (326.5m) buildings in Eastern Europe. A lift takes you up to an observation platform in 45 seconds. There is a circular room (at the height of 165m), which revolves slowly, taking about 1 hour to complete one circle. There is a cafe, and viewers can appreciate a spectacular view of Vilnius and of the panorama of the surrounding countryside within the radius of 50 kilometres.

Try the Lithuanian food! If you wish to taste the entire Lithuanian cuisine, prepare for a lengthy stay. The oldest traditional Lithuanian drinks are mead and herbal brandies of various types. Lithuania is also famous for its brewers. Lager or dark, non-filtered or honey beer will definitely get you talking.