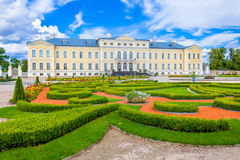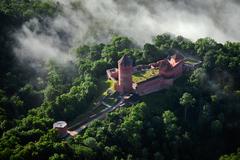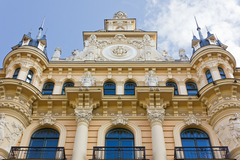 PRIVATE DAYTOURS IN LATVIA
Classic Old Town of Riga
Discover St Peter's church, the House of Blackheads, the Guild houses, the Latvian parliament, the three brothers, the Monument of Freedom, Swedish gate and many more spectacular places of Old Town!
Art Nouveau of Riga and Old Town tour
Discover amazing Old Town of Riga and impressive Art Nouveau (Jugendstil) disctrict. After this tour you will know, why Riga became a centre for Art Nouveau and learn a little about a golden era in Riga's history.
Wooden buildings in the centre of Riga
The route leads through the centre and suburbs of Riga that is the place of UNESCO World Culture Heritage. The accent of the tour is put on the preserved wooden buildings that have been constructed after 1812.
Discover Riga by bike
Electric Bicycle riding in Riga is one of the most enjoyable activities the city has to offer. Do you want to discover a different side of the city, off the beaten track? Then why not join a tour ride with tourguide around Riga!
Exciting Riga kayak tour
Riga's canals and the River Daugava offer the perfect location for inner city Kayaking or Canoeing. If you feel the need for water, activity and sightseeing then this is a great option! Explore Riga from different angle!
Market halls of Riga tour
Do you want to taste a freshly salted cucumber? Buy fresh vegetables? To treat yourself to an eel, smoked just last night? Take a truly captivating walk, the likes of which cannot be found anywhere in Europe!
Kipsala island and Jurmala sea resort
Quiet island in center of Riga will show you wooden houses and stunning views of the Old Town and port. After Kipsala You will enjoy the Jurmala city, famous with wooden architerture, pine forests and sandy Baltic beach
Explore Latvian castles in Sigulda
Sigulda is one of the most beautiful towns in Latvia! Highlights of the tour are Romantic valley of river Gauja, The castles of Turaida and Sigulda, Gutmanis cave, hiking trails, air tram and many more!
Rundale palace and museum
One of Latvia's hidden gems is the Baroque palace of Rundale. Designed by the Italian architect, Bartolomeo Rastrelli, famous for the Hermitage and Peterhof in Russia – most stunning building in the Baltic region!
Countryside of Latvia and amazing Kuldiga
Kuldiga is authentical city of Latvia's western region, Kurzeme, which has preserved its medieval appearance and charm. Kuldiga surprises guests with the historical centre, waterfalls and magnificent nature.